About Us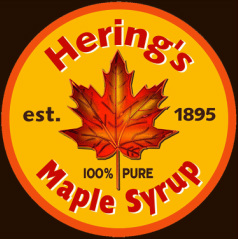 What started out as a small family tradition, has now turned into a growing business. We are a five generation syruping family, tapping our first tree in 1895.

We are located in southern Minnesota, near Waterville on a small family owned farm.

Starting out, we used just one flat pan, than added another and another. For years, we used just three flat pans for our own syrup as well as selling at the farmers market and family friends.

In 2010, we purchased our first wood burning evaporator, quickly realizing our little hobby was turning into something much bigger than we ever imagined we knew we would have to upgrade. That following year we traded in our wood burning evaporator and purchased a fuel burning evaporator and reverse osmosis.

In 2013, we had 13,000 taps out with buckets, and a woods lined with 3,000 taps.

As of 2014, we have 15,000 taps on lines, and 4,000 taps out on buckets. We are a dealer for Dominion & Grimm, one of the largest maple syrup equipment dealers in the United States. So come on out and check out our inventory. From the small syrup producers to the large, we can help you with anything, from buying taps for your backyard trees, to installing lines for your 50 acre woods. Come check us out.
---